We offer comprehensive, intelligent and customisable software and data services for the land and property development community. These tailored services are designed to save you time and money on your projects. Delivered by our team of Geospatial experts via our market-leading land intelligence platform, LandHawk, we promise a quick turnaround and every detail you need to succeed.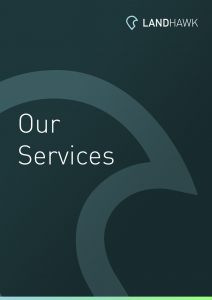 We help you find locations that match custom search criteria, assessing the potential of land parcels and portfolios to create shortlists of suitable sites for your future development projects.
We help you identify the parameters for future success based on the location data of your previous developments, allowing you to build intelligent search criteria for your next project.
Our advanced land referencing capability helps you access comprehensive ownership information for parcels of off-market land, ideal for large development and regeneration projects.