As part of our roadmap for continuous improvement, the development team here at LandHawk has had a light-touch project management system in its sights. Named Workspace, we are delighted to announce that this new feature has now been added to every subscription.
What is LandHawk Workspace?
LandHawk Workspace gives you the tools you need to manage your projects through to completion. It allows you to see the different stages, planning submissions, acquired land and more, giving you an overview of exactly how each project is performing along with timelines.
Workspace is designed on a Kanban Board concept, much like familiar productivity applications such as Trello. 
We chose this design to make it incredibly easy to visualize, tag up and see where you are at each stage of every project. It's a very simple, visually informative way to speed up your workflow so you're not constantly checking back on emails or having to search through your files for information.
Here you can keep all your site finding activities organized, create new projects, save land parcels and use the handy board layout to manage and view your workflows.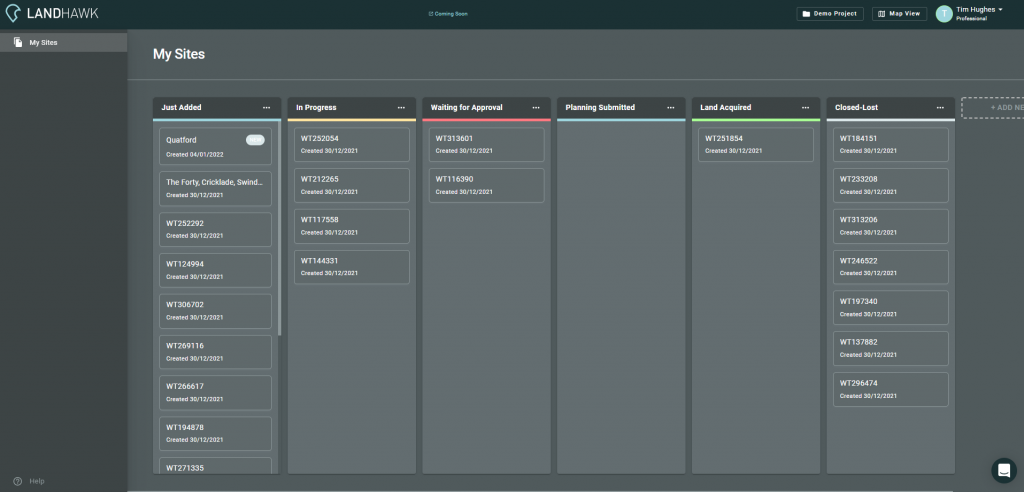 How do I use LandHawk Workspace?
Using it is simple: just navigate to the folder icon button at the top right next to the workspace button.
This will pop up a window where you can add a new project, click this to name it and simply repeat the process depending on how many projects you want to load in.
Once you've created your project, you can start adding Site Cards to the project folder to use with the Kanban Board. 
Adding a site card is straightforward: when you click on a land parcel, you will now see that we have added a '+' button to the right of the title number on the Info Panel. 
When you click this button, your saved Site Card appears in the 'Just Added' list on the Kanban Board which you can access via the 'Workspace' button in the top right of the application. Once it's in here, simply click and drag to move it into the relevant list.
You can create your own lists within the Kanban board which align with the various stages of your project. Simply click 'Add new list' and it will give you the option to name it. To colour code the list, click on the ellipse and use the colour picker.
This new feature means you and your teams have continuous visibility of how your workflows are progressing and what needs action.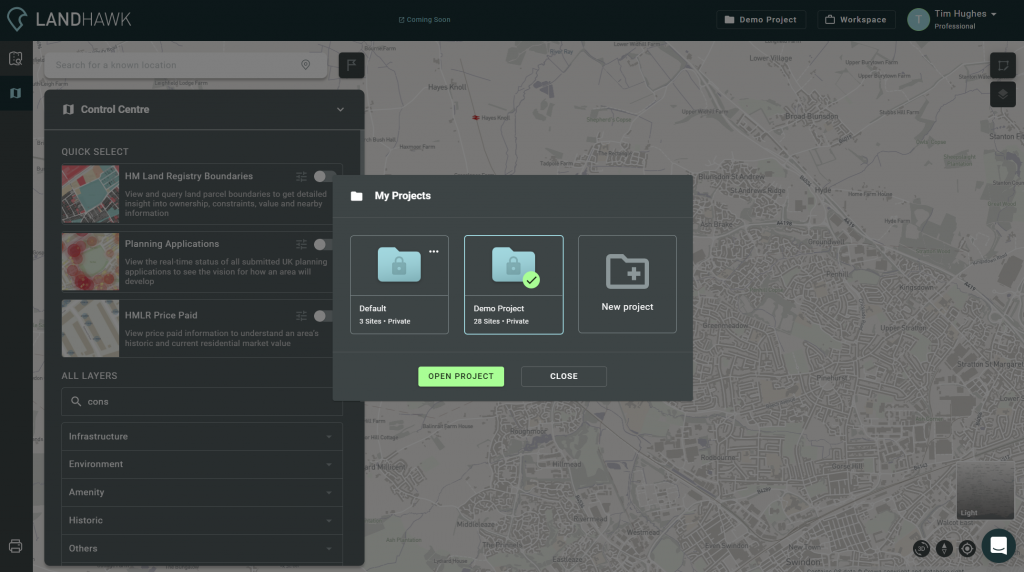 Your feedback really helps!
So let us know how you're finding this new tool and if there's anything we could improve upon. We rely on your feedback to shape LandHawk and make it work for you, so it's very important to us.
Coming up soon, the team is working on the ability to view the site cards on a dashboard and export PDF reports. There will also be planning alert notifications, so you can monitor change on or near to a parcel of land.
Why not book a demo and take this new feature for a spin!