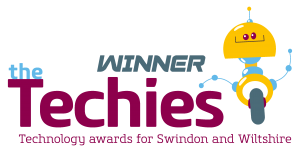 We're pleased to announce that we've won the 'Using Tech to Transform Business' category at the 2021 Wiltshire Techies awards.
The Techies is a Business Exchange award scheme that celebrates the innovation and entrepreneurship of the IT community in Swindon & Wiltshire. Putting the spotlight on the area's most exciting tech firms.
The awards had some tough competition and we were delighted to be announced as finalists for two categories – 'Driven by Data' and 'Using Tech to Transform Business', ultimately winning the latter!
The platform was designed with the UK's vision to 'Build Back Better' in mind and our results so far clearly show it. Our team of developers have created the type of tool that the government is investing in to digitalise the planning system and work towards a green industrial revolution.
With quick and simplified access to the land, environmental and property data that we provide, we enable sustainable development that supports the race to net zero. Saving time and costs from the beginning of any development project.
The award, sponsored by Thrings Solicitors was presented to our CEO Tim Hughes who commented;
"We're so pleased to have been recognised for the hard work our team have put into the LandHawk platform and winning our very first award! When we started the platform, our aim was to change the inherently outdated process of finding and assessing development land to help the UK build back better, faster and more sustainably. 
We were especially excited to have won the business transformation category because in the short time our new platform has been released, it's already had a huge impact on our clients' workflows. 
We've had reports of a Land Agent getting five days' worth of searches completed in just one day. Another client has reported that they have turned round an appraisal almost instantly that normally takes them three days to complete. 
Our development team has worked tirelessly to bring our plans to life and we have a full roadmap ahead of us for product updates over the next 12 months too. So thank you to all the judges for seeing our potential and supporting our business, it's great that we have so many amazing Tech businesses in Wiltshire and that the Techies help us all to showcase our talent. We're delighted to have won and we're looking forward to taking part again next year!"
As Tim mentions, the platform has big plans in it's product roadmap over the coming year, with several developments and new features on the cards so watch this space!